The 2wd word champion has been crowned for 2017 in Xiamen China, and it was Ryan Maifield from Team Yokomo that has claimed toe top spot from Ryan Cavalieri and Lee Martin.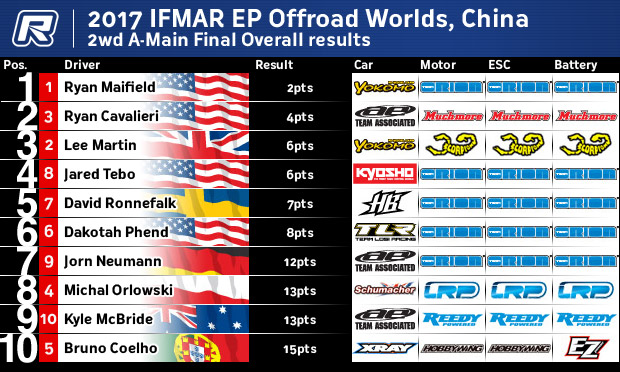 However I know you want to know how the Australians fared because unless you have been living under a rock, you will know that we have a strong contingent of drivers in China this year.
2wd Buggy IFMAR Off Road World Championship positions for the Australians and Nnew Zealanders
9th – Kyle McBride. Doing a stellar job to book himself a position in the A Main
15th – Chris Sturdy taking out 5th in the B main racing against the likes of Ty Tessmann, Dustin Evans and beating Spencer Rivkin and Reno Savoya! Even pulling top 10 runs during the event.
25th – Ray Munday.
28th – Josh Pain.
32th – Mitchell Steer
39th – Cameron Zammit
46th – Shane O'Connor
47th – Anthony Campbell
49th – Matt Kellett
53rd – Christopher Mitchell
58th – Andrew Selvaggi
62nd – Lachlan Munday
65th – Jarrod Smith
86th – Kelly Churchill
88th – Jon Philpott
Congratulations to all and good luck for 4wd.
Source: Live RC